OPPAI Ero App Academy: Bigger, Better, Electric Boobaloo is a VISUAL NOVEL set in Toaru Academy, an all-girls academy where a bigger bust indicates higher exp! Shimojo Kazuma is the first male student at the school. Will he be able to win the hearts of these buxom beauties?
OPPAI Ero App Academy: Bigger, Better, Electric Boobaloo is a
visual novel
set in Toaru Academy, an all-girls academy where a bigger bust indicates higher exp! Because of a contract Shimojo Kazuma signs at a mystery phone shop, he gains access to the Ero App, giving him the ability to get with the girls from the academy with the biggest boobs ever!
System
After reading the prologue and the first chapter, select any of the 10 main heroine scenes to advance the story of the game. The main story of the game is developed throughout 14 chapters called stages, and each stage of the story is divided into 4 waves. Completing a main heroine scene unlocks a new scene as well as advances you to a new wave. When you have completed 4 waves, you proceed to a new chapter (stage) of the main story. Repeat this to get to the final stage.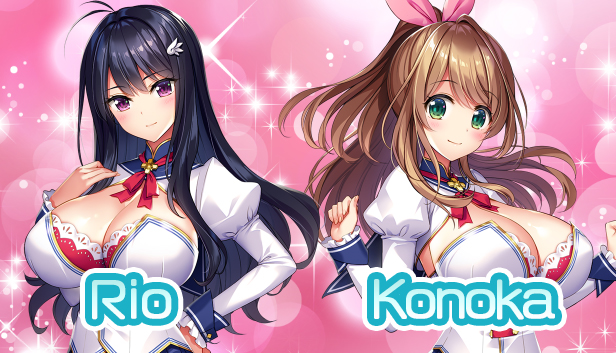 By going through the main heroine scenes, you can unlock "Boob Enhancement Bootcamp" and "Harem" scenes. Unlock all of the minor character, boob enhancement bootcamp, and harem scenes! (You can also unlock more scenes by continuing through each stage of the story.)
Enlarge and rotate the CGs in this game with the magnifying glass tool! If you want to look at a CG sideways, click on the magnifying glass, and the CG you are currently viewing can be turned to the side or enlarged! You can also do this with each character's standing portrait in the profile menu!
Background voice has also been added, great during the harem scenes to add a sense of being surrounded by booby girls on all sides!
Jump feature added! When you open the text log click on the jump button to go back to that point in the game!
Over 110 CGs! All main characters have erotic animation scenes!
Naked mode! All main characters have no clothes on!
Solo grinding history! Go to the profile screen and you can view each character's solo grinding history as you get to know them more! Also with secret voice recordings!
Using the Ero App to get all lovey-dovey with your classmates is great and all, but it's also amazing when used with acquaintances and strangers in the minor character section! The Ero App can raise a girl's attraction level to the protagonist from 0% to 255%! Playing through the story scenes will also unlock more minor character scenes!
Story
Shimojo Kazuma has special circumstances that lead him to become the very first male pupil at Toaru academy, a special kind of all-girls academy. After his mother had moved jobs, Kazuma was interviewing at Tsurugi Art Academy when he demonstrated an ability only girls were supposed to have; he made the female interviewer excited without ever touching her! (It appears that his stepsister, Emiri, used her wish-fulfillment skill, causing Kazuma's Ero Skills to awaken.)
"Since when did I have these powers!? All I did was fantasize after seeing the interviewer's black panties and thick thighs when she adjusted her mini skirt!?"
Because of his abilities, Kazuma is forced to enroll into Toaru Academy, a special, elite academy whose pupils all have the ability to use Paiokinesis!
After he is enrolled, his stepsister, jealous of a cute waifu character Kazuma has in his smartphone gacha game, destroys his phone. Wanting to get his phone fixed promptly, Kazuma enters a certain phone store when he spots someone that appears quite familiar...
"Welcome... I'm surprised you found this store. It's set to only be found by the most pure-hearted and red-blooded of men…"
"What does that mean... Wait a second, I know you!"
"Are you... Master? Thank you for always giving me the skimpiest armor in the game!"
Shimojo meets Riria, a character from the erotic phone game he always plays! Shimojo, skeptical if it's the real Riria, talks to the booby girl about all of the adventures they've had, and he realizes that indeed, she is the actual Riria from his mobile game.
"That's a weird looking phone..."
"Ignore the phones from last year. I'll show you the latest and greatest phone developed in the world I'm from, Master!
Last year's model is all he can afford! However, Riria keeps insisting.
"I want to reward you for playing so much even though your old phone was a terrible, old, low-spec model, Master..."
Riria begs to show Kazuma the smartphone from her world.
"I can use it like normal right? It won't blow up or anything? All the otherworldly items I've read about in light novels seem like more trouble than they're worth."
"Y-Yeah! You'll be just fine, Master! There are types of phones that won't blow up!"
"All right fine, show me. Although I'm still somewhat suspicious from how you worded that..."
Not knowing if he'd suddenly be thrust into some other world, Kazuma decides to try the new phone! He decides to try one of the Ero Apps that catches his eye, "Sudden Mixed Bath!"
He touches the app icon. Suddenly, it appears as if he just faded out into a white loading screen. Then, he sees his childhood friends Rio and Konoka, along with a bunch of other booby girls, all naked in a communal bath!
"So this is the power of the phone from another world and the Ero App! With this phone, I'll be able to become the most powerful student at the academy!"
Within him, Kazuma knows he has the potential to conquer the world with the use of this new Ero App! And so begins his adventure.