In Silence is a multiplayer horror game. One player takes on the role of the monster who has hypersensitive hearing abilities and almost completely blind. The other players(2-6) play as survivors, trying to escape or hunting the monster.

A New Experience
In Silence is developed for providing a different online horror experience. You can hunt everybody by using your excellent sense abilities by conducting the hypersensitive monster or you can be a player planning to handle this situation by using our 3D voice chat system and contact with other players who want to survive. Moreover, no need to escape only... Also you can hunt him.
A Blind Monster... Rake!
A monster who has reduced eyesight in the silence but increased eyesight in loud voiced places, who can hear the breath you take hundreds of meters away, who can run a long distance in seconds with a start, who can smash in seconds when he catches his hunting, who is silent as well as smart... It shouldn't be hard to guess what Rake can do in clever hands.
Shh... Be Quiet My Friend!
It's heartbeat away from facing with monster after a step you take, a toy you tread on or a vase you break... Maybe that is what you want? Because you can use the voices for your advantage. You can leave the TV on and escape, leave the radio you find at the bottom of the trap...
Escape or Hunt!
As Survivor, you have two choices. To escape, you can find the missing parts of the car and repair it or open the secret arsenal to solve the mystery in the game and hunt down the monster.
Where Am I?
Every episode you play will not be as before. Your perks, escape points, the place of items, different duties and so on will change in every play. You will never feel comfortable and you will not know what can happen.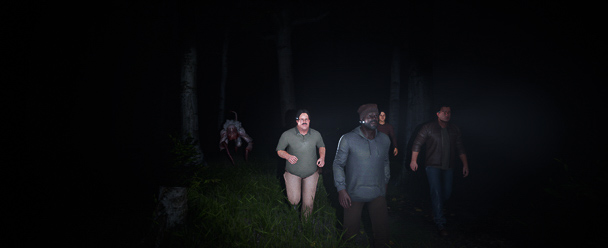 Key Features
Single player
You should try if you think that you can beat Rake by yourself!

Nightmare Mode
As many items as needed to repair the car, the item is distributed to the environment. If 3 wheels are missing in the car, there will be only 3 wheels on the map.

Perks
With 16 different perks, a different feature will be strong in each game. You can be a warhorse or a good mechanic. You can direct the game with these perks and distribute the duties with your friends.

3D Voice Chat
You can hear the voices of players according to their positions. But don't forget! If Rake is near you, he will hear your speaking voice.

Flashlight and Flashbang
You will use an advanced flashlight to defuse Rake. With flashbang effect, this flashlight can stop Rake, but also it can make your friends blind. If you are caught by Rake or your friend is caught, you can stun Rake with flashbang and escape. In order to use flashbang, you have to be sure that your flashlight has enough energy.

Rifles and Armory
You can clear up the mystery in the game and you can find the secret armory. Rake may get a little angry to this situation.

Enraged Monster
When armory or escape gates are opened, Rake gets angry and he can kill people anymore while running.

Play as Mouse
When you die, you can help your friends as a mouse. You can find items and try to tell them where they are, or you can try to distract the monster.