It is a Roguelike card game which owns interesting honeycomb and original combat rules. Whether adventures or combats, have rich variety of options.
About the game
is a unique Roguelike card game, we have to explore various events in the secret world, strive to enrich the deck and emphasize the strength before the arrival of a powerful devil.

Exploration stage
Devil's mystery place include 3 floors, each floor you have 20 days to explore to improve your strength, after 20 days the boss event will come.
Every day we can explore an unknown area around ourselves, every 5 days a demon minions attack!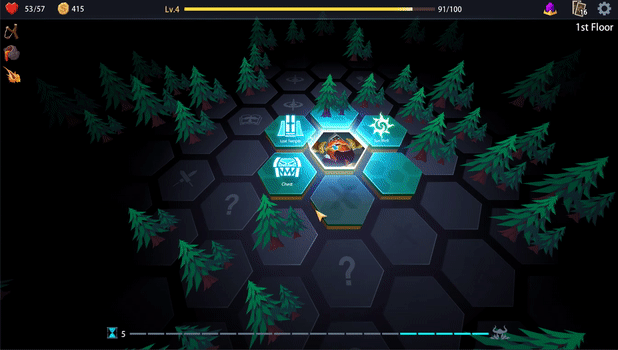 Combat stage
You can immolate one card every turn to increase the Max Mana.
Mana is consumed by using of hand and skill.
The summoned minion will automatically attack the enemy creature in front of at the end of the turn, or it will attack the opponent's hero when it's not blocked.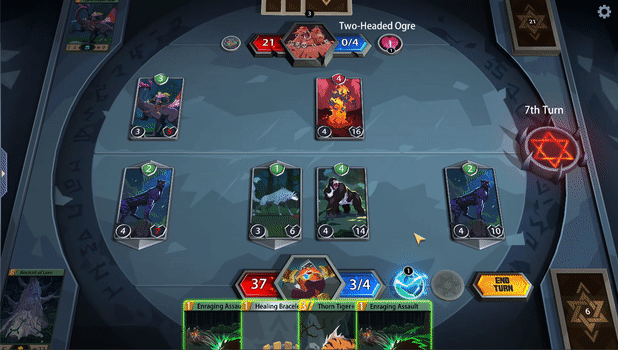 Which cards to immolate or use, where a minion to place, all of that means you have plenty choices.

Original combat system, it is quite different from other card games, and both sides are using cards.
Random dungeon world, every adventure is a new exploration.
The initial deck will be gradually strengthened during the adventure, and each adventure will create a different deck.
The current version contains more than 240 cards, more than 70 items, more than 80 monsters, and 3 distinct heroes.
There are 20 difficulty levels that can be challenged, every choice needs to be considered carefully under high difficulty.

Bronze Shaman
A dwarven Shaman, easy to use, good at strengthening minion's attack, also good at HP healing.

Rage-fire Mage
Mage from human, medium difficult, defeat enemies by aggressive spells.

Conch Witch
Conch princess, high difficult, good at controlling and let the opponent fall into their own rhythm
The devil is coming, the warriors, it's time to pick up your weapon!
Contact US
QQ Group:591891578
Discord:HZ9G2wG